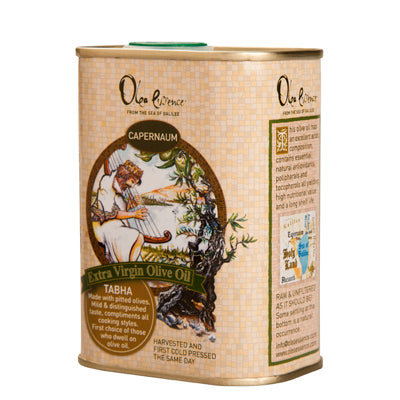 Tabha (Gold Seal) Extra Virgin Olive Oil 400ml by Olea Essence
Tabha, our gold seal extra virgin olive oil, is cold pressed using a blend of green and black pitted olives. Olives are typically pressed together with their pits, resulting in the bitter taste normally associated with olive oil. Because we remove the pits before we press, our Tabha has a light, buttery flavor without a hint of bitterness.
Our unfiltered extra virgin olive oil, cold pressed from olives grown on our family farm, is a rich, natural source of antioxidants. We harvest and press our olives on the same day, ensuring a superiorly low acidity level (0.4% max). A lower acidity indicates that the olive fruit has undergone less damage, resulting in a healthier olive oil and a fresher, tastier flavor.
How to use: We recommend using the Tabha variety for your salads, dips and sauces, and to use as a finishing oil after cooking.
Best consumed within one year after opening.