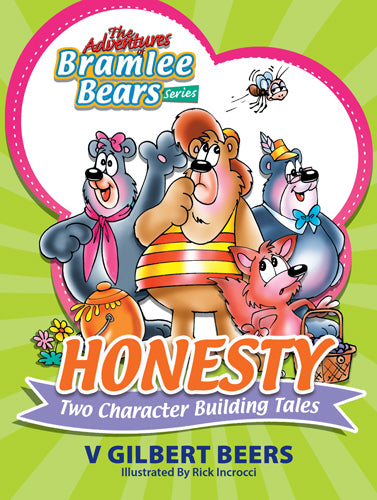 Adventures Of Bramlee Bears Series – Honesty
The Bramlee Bears character-building stories will help your children to see both the good and bad qualities at work in the lives of the bears and their friends in Bramlee Woods. Their adventures will also guide your children to both value and seek good character qualities and avoid making bad choices.
A bear with a taste for honey and a fox tempted by blueberries…The two tales presented in this book puts the character quality of honesty to the test. The stories will encourage the young reader to think about deceit as a manipulative form of dishonesty towards others, that being dishonest often leads to more schemes to cover up, and can only lead to punishment and misery. They will help your children think about honesty as being a choice that treats others, friends, family and strangers, with respect and dignity.