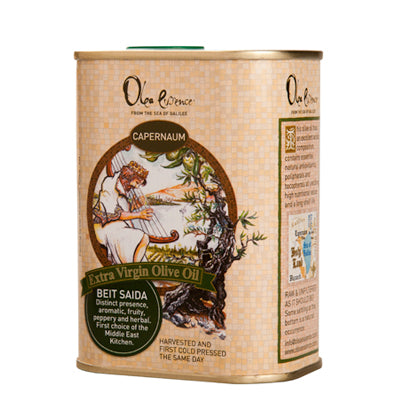 Beit Saida (Green Seal) Extra Virgin Olive Oil 400ml by Olea Essence
BBeit Saida, our boldest variety of extra virgin olive oil, is cold pressed from green olives picked early in the harvest season, using a mélange of local species. The result is delightfully aromatic, with a distinctly peppery and fruity taste.

Our unfiltered extra virgin olive oil, cold pressed from olives grown on our family farm, is a rich, natural source of antioxidants. We harvest and press our olives on the same day, ensuring a superiorly low acidity level (0.4% max). A lower acidity indicates that the olive fruit has undergone less damage, resulting in a healthier olive oil and a fresher, tastier flavor.
How to use: Not only for salads! This olive oil is also an excellent choice for cooking. We recommend this variety for Mediterranean and Middle Eastern inspired dishes, and recipes that call for a bold olive flavor.
Best consumed within one year after opening.