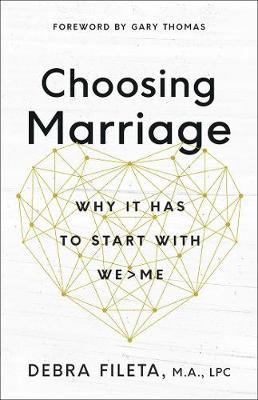 Many couples say "I do" with a combination of high hopes and fairy tale fantasies--but there's a difference between the expectations of marriage and the reality of what marriage holds. Whether you're married, single, or dating, now is the time to ask yourself: What steps can I take today to build an incredible marriage for tomorrow?

With compassion and clarity, licensed counselor and relationship expert Debra Fileta shows that when we can work through the struggles of marriage, we get to experience the joys! Learn about eight powerful choices that will encourage and equip you to take your marriage from average to exceptional and find astonishing survey results from thousands of singles and couples on topics like love and attraction, sex, conflict, and communication. 

A beautiful exchange occurs when you learn what it means to choose we before me. Discover practical steps that will give you confidence and courage on the adventure of Choosing Marriage.