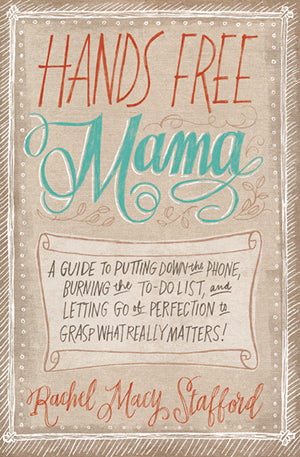 Hands Free Mama by Rachel Macy Stafford
If technology is the new addiction, then multi-tasking is the new marching order. We check our email while cooking dinner, send a text while bathing the kids, and spend more time looking into electronic screens than into the eyes of our loved ones. With our never-ending to-do lists and jam-packed schedules, it's no wonder we're distracted.
But this isn't the way it has to be.
Tired of losing track of what matters most in life, Rachel Macy Stafford began practicing simple strategies that enabled her to momentarily let go of largely meaningless distractions and engage in meaningful soul-to-soul connections. She started a blog to chronicle her endeavors and soon saw how both external and internal distractions had been sabotaging her happiness and preventing her from bonding with the people she loves most.
Hands Free Mama is the digital society's answer to finding balance in a media-saturated, perfection-obsessed world. It doesn't mean giving up all technology forever. It doesn't mean forgoing our jobs and responsibilities. What it does mean is seizing the little moments that life offers us to engage in real and meaningful interaction. It means looking our loved ones in the eye and giving them the gift of our undivided attention, leaving the laundry till later to dance with our kids in the rain, and living a present, authentic, and intentional life despite a world full of distractions.