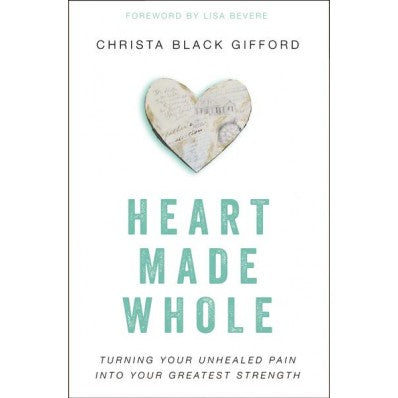 Heart Made Whole By Christa Black Gifford
In Heart Made Whole, Christa Black Gifford shares her own stories of loss, betrayal, and personal tragedy, chronicling clear steps to redemption to help those in pain invite the true Healer into the tangled mess of their broken hearts. Gifford reminds readers that pain is not their enemy, however, unhealed pain can become their greatest foe if it's not taken to Jesus. 
Growing up as a preacher's kid, Gifford had been submerged in Christian culture for decades when she uncovered the truth--that there were broken parts of her heart that weren't on friendly terms with the God who lived inside. Through disappointments and traumas, she had learned to guard her heart from God, keeping her angry, entrapped, and disconnected. As struggles and hardships continued, she finally learned to run towards her relationship with God when things got hard, instead of running away from Him like she had in the past. The more that she did this--building her heart's capacity for intimacy and deep relationship--the more her heart began to heal from the inside-out. She teaches the reader to access the solution that's already living inside of them--the God who forever made their heart a home.
When trials and tragedy hit our lives in a fallen world, our hearts can get smashed to bits, and we end up putting God on trial and blaming Him for the mess. But Christa helps readers understand that they don't have to live controlled by their circumstances – or angry with God. Instead, she provides powerful insight and practical steps to turn the painful fire that comes to destroy us into an unexpected friend that can produce our greatest healing.
The condition of the heart determines the condition of life—and the heart can be bound up and healed, producing freedom and abundant life. With personal workbook sections for each chapter Christa helps readers experience steps to turn their pain into the healing and wholeness available to every believer.