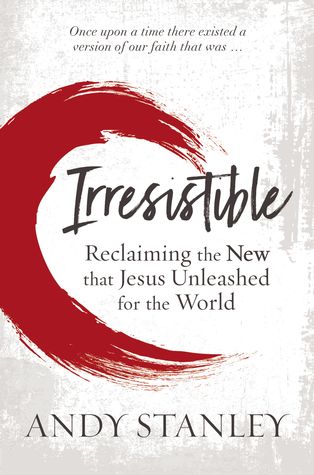 Irresistible by Andy Stanley
Once upon a time there existed a version of our faith worth living and dying for, something the world found irresistible. Men and women pursued it at the risk of persecution, job loss, and eviction from their homes, temples, and society.

What if we actually followed their lead? Perhaps it would change how we read the Bible. Maybes it would help us understand our own faith and what we believe. Perhaps we would change the world again.

In Irresistible, pastor and author Andy Stanley shows how distortions of the gospel have left us with an anemic version of Christianity that undermines our credibility and our evangelistic effectiveness. He takes readers on a fascinating journey back in time to recover a faith so rich, so dynamic, so disruptive, that it could not be ignored, marginalized, or eradicated.

Rather than working harder to make Christianity more interesting, we need to recover what once made faith in Jesus irresistible to the world.