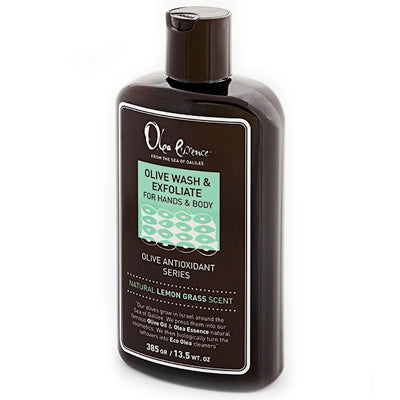 Olive Wash & Exfoliate for Hands & Body 13oz. by Olea Essence
Proud to be the Winner of the 2010 Cleantech Open Competition
One of Olea Essence's bestsellers is the 100% natural Olive Wash & Exfoliate. A 3-in-1 wash, scrub, and toner, based on crushed olives with pits for an intensive exfoliating scrub, leaving the skin feeling supple and moisturized. Eliminates the typical feeling of dryness after showering.


Why it works?
Our unfiltered extra virgin olive oil is a rich natural source of antioxidants, healthy vitamins and minerals. Combined with other essential natural oils and plant extracts, we create a unique blend that activates anti-ageing properties and maximizes their wholesome effect on your skin. Our proprietary olive oil balances secretion of oil glands, and the addition of other plant oils accentuates its restorative and reparative effect on your skin, and aides in softening and smoothing.

Recommended for
Directions
Apply a small amount of Olea Essence's Olive Wash & Exfoliate for Hands and Body onto dry skin, massage gently in small circles, and rinse off.

Ingredients
Olea europaea (Olive) Fruit Pulp, Olea europaea (Olive) Fruit Extract, Glycerin, Decyl Glucoside, Xanthan Gum, Butyrospermum parkii (Shea) Butter, Sodium Benzoate, Caprylyl/Capryl Glucoside, Caprylyl/Capryl Glucosidel/Capryl Glucoside, Melaleuca alternifolia (Tea Tree) Oil, Potassium Sorbate, Cymbopogon Schoenanthus (Lemongrass) Oil, Cetearyl Olivate, Sorbitain Olivate, Limonene, Citral, Geraniol, Linalool