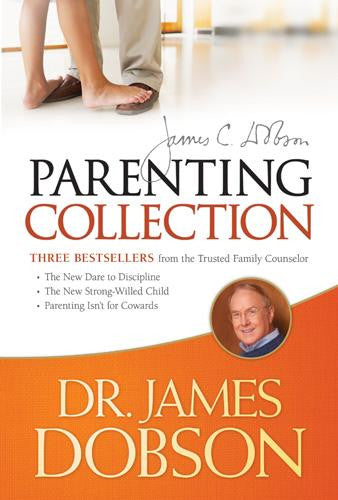 The Dr. James Dobson Parenting Collection
It can be tough to be a mom or dad. Aren't there days when you wish you could sit down with an expert on parenting-somebody who really understands what you're going through and knows just what advice and counsel to give you? Good news: The parenting wisdom you need is here-in one complete volume! In The Dr. James Dobson Parenting Collection, you'll find three bestselling books (The New Dare to Discipline, The New Strong-Willed Child, and Parenting Isn't for Cowards) containing the straightforward, practical, biblical truths you need-from Dr. James Dobson, the world's foremost authority on parenting.
The New Dare To Discipline:
Why are boundaries so important? Do children really want limits set on their behavior? Is it okay to spank my child, or will it lead him to hit others and become a violent person? Join the millions of caring parents who have found much-needed answers to their questions in the wisdom of parenting expert and family counselor Dr. James Dobson. The New Dare to Discipline is a revised and updated edition of the classic bestseller, designed to help you lead your children through the tough job of growing up. This practical, reassuring guide will teach you how to meet your children's needs of love, trust, affection-and discipline
The New Strong-Willed Child:
Dr. James Dobson has completely rewritten, updated, and expanded his classic best seller The Strong-Willed Child for a new generation of parents and teachers. The New Strong-Willed Child follows on the heels of Dr. Dobson's phenomenal best seller Bringing Up Boys. It offers practical how-to advice on raising difficult-to-handle children and incorporates the latest research with Dr. Dobson's legendary wit and wisdom. The New Strong-Willed Child is being rushed to press for parents needing help dealing with sibling rivalry, adhd, low self-esteem, and other important issues. This book is a must-read for parents and teachers struggling to raise and teach children who are convinced they should be able to live by their own rules!
Parenting Isn't For Cowards:
Does your heart skip a beat when you think of all that could go wrong in the parenting years ahead? Anxiety is normal, but your worst fears don't have to become reality. Speaking both as a therapist and a father-and drawing on a landmark study of thirty-five thousand parents-Dr. James Dobson helps you . . .
prevent child-rearing troubles before they happen
banish your guilt about hard-to-raise children
protect your sanity during a child's adolescence
restore your energy when you're facing burnout
enhance your relationships with your kids
With more than one million copies sold, this confidence-building classic will help you experience the full joy of parenthood-and what may be the greatest sense of fulfillment you'll ever know.