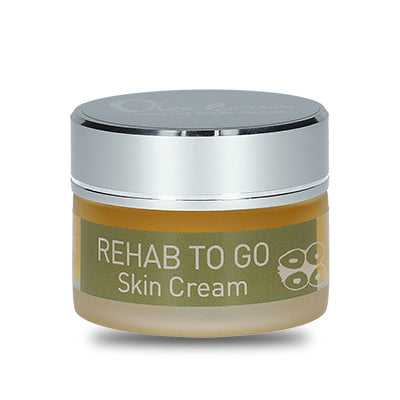 Rehabilitation Skin Cream 15ml by Olea Essence
TOP SELLER! OUR STAFF CALLS IT THE "MIRACLE CREAM"!
Your natural first-aid cream, formulated to calm, soothe and heal skin from itchiness, burns, bug bites, rashes and more.
Our fans have reported the effectiveness of this cream on eczema, psoriasis, rosacea and even seborrhea.
Why it works?
The antioxidant-rich formulation helps repair the skin's natural barrier and enhances the ability of skin cells to regenerate themselves. Honey, renowned throughout the ages as a naturally-powerful humectant, deeply boosts hydration and gives the skin a soft and supple feel. The concentrated formula is quite effective, so a little goes a long way!

Recommended for:
Ingredients: Olea Europaea (Olive) Fruit Oil, Yellow Cera Alba (Beeswax), Glycerin, Honey, Hippophae Rhamnoides (Sea Buckthorn) Fruit Oil
Directions: Apply thin layer on affected areas of the skin until skin ailment clears. Allow three minutes to fully absorb.