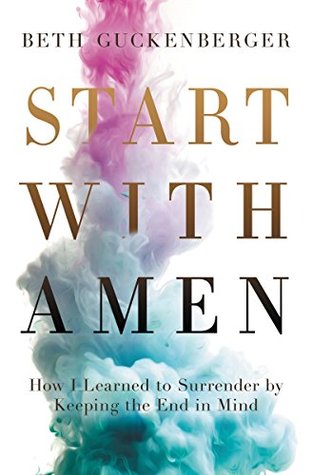 Millions of Christians all over the world say this word every day, yet do we realize what depth, truth, and connection are packed into this sacred word?

Throughout the centuries, Christian tradition has taught us to end prayers with amen. But the Bible is full of stories and passages where God's people started their prayers with amen. Why? As Beth Guckenberger shows, amen is more than just a way to punctuate a conversation with the God of the universe. Amen is a declaration of who God is and who we are in relation to him. It is a moment of submission and worship; we say "So be it" to a Sovereignty that holds all things, and we acknowledge "It is as you say" to him who holds our lives.

In Start with Amen, Guckenberger unpacks what the Bible teaches us about the moment we say amen to God. Using key Scripture passages mixed with fresh teaching and personal stories, she invites you to experience a new richness in your conversations with God. For amen is more than just a word; it is an invitation from God, complete with all God requires from us and all he longs to share.