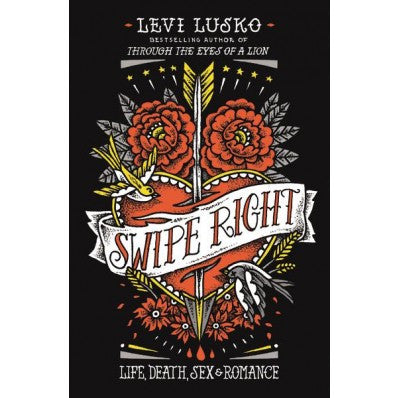 Swipe Right: The Life-And-Death Power Of Sex And Romance
 God wants you to have amazing sex
There is nothing more powerful on earth than the forces of love, sex, and romance. In fact, relationships are a matter of life-and-death importance.
So how you can train today for the relationship you want tomorrow? In Swipe Right, Levi Lusko shares with raw honesty from his own life experiences and God's Word how to
regret-proof your marriage bed and your deathbed
resist settling for instant pleasure by discovering what your heart really longs for
learn how to avoid and treat sexual scars by careful living today
turn the clumsy "sex talk" with your child into dialogue that leads to wise choices
transform a stagnant marriage by trading predictable nearness for mind-blowing intimacy 
God's dreams for your life are not intended to kill your joy but to enhance it. Whether you're fed up with dating and hooking up as usual, tired of being single, numb because of porn and casual sex, or curious about how to improve your marriage, this book is for you.
 
Praise for Swipe Right
"It's a perspective I believe we need now more than ever."
—Steven Furtick
Pastor, Elevation Church, and New York Times bestselling author
"One day, someday, there will be a day where you will need the down-to-earth wisdom in this book like you will oxygen."
—Joel Houston
Songwriter, Hillsong United, and pastor, Hillsong NYC
"Swipe Right isn't just another book of how-not-tos but an honest, gritty, and real-time approach to navigating dating, sex, and romance with our souls and sanity intact." 
—Judah Smith
Lead pastor, The City Church, and New York Times bestselling author of Jesus Is _____.
"Swipe Right is a timely, wonderful, prophetic, and needed message for our generation."
—Christine Caine
Founder of the A21 Campaign and bestselling author of Unashamed
"If you are wondering what God's plans are for your love life, or leading those in search of his plan for theirs, you need this book."
—Louie Giglio
Pastor of Passion City Church, founder of Passion Conferences, and author of The Comeback
"This is a good book. Study it, ponder it, and, if you know a fifteen-year-old, tell them to read it."
—Max Lucado
New York Times bestselling author