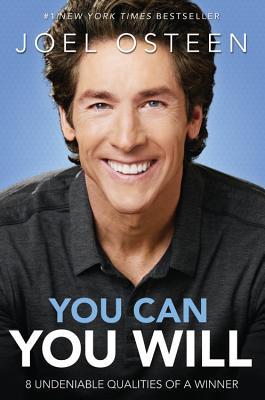 You Can You Will by Joel Osteen
Get ready to step into a new level of your destiny and discover talents you didn't even know you had! You were created to be successful, to accomplish your goals, to leave your mark on this generation. You have greatness in you placed by God himself. The key is to get it out.
Discover how with eight common characteristics of people who've achieved high levels of success in life 8 Undeniable Qualities of a Winner.
Create bold visions

 

- Dare to dream big dreams.
Run your own race

 

- Focus on your unique course and goals.
Think positively

 

- Control your thoughts and attitudes.
Expect Good things to happen

 

-Anticipate great opportunities.
Stay Passionate

 

- Light the fire within and approach life with enthusiasm.
Commit to excellence

 

- Do your best and maintain high standards.
Keep growing

 

- Deal with your weaknesses and continually improve.
Serve Others

 

- Invest yourself in others.
"Winning is in your DNA. The most high God breathed His life into you. You've got what it takes. This is your time. This is your moment. Shake off doubts, shake off fear and insecurity, and get ready for favor, get ready for increase, get ready for the fullness of your destiny. You can, you will!"-- Joel Osteen